What are Dental Implants?

A dental implant is a surgical component that interconnects with the jaw bone to support a dental prosthetic such as a dental crown, bridge, denture or combine it with orthodontics. The basis for modern dental implants is a biological process called osteosynthesis, in which materials such as titanium form a close relationship with bone. The implant accessory is initially positioned so that it is likely to be osteogenic, then the dental prosthesis is added. A variable amount of healing time is required for osteogenesis before attachment of either the prosthetic part (a tooth, bridge or denture) to the artificial implant or a support that will retain prosthetic work.
The Problem
Dental implants are placed when there is a lack of teeth.
Specifically the indications for the placement of dental implants:
• When we lack a tooth.
• When we lack 2 or more teeth anywhere in the jaw.
• When all teeth are missing the mouth.
In general, dental implants can be right for you if you:
• You have one or more missing teeth
• You have a jaw that has reached full growth (usually after 21 years)
• You have enough bone for implants or you are able to place bone transplants
• You have healthy oral tissues
• Do not have any health conditions that will affect bone healing
• You cannot or do not want to have dentures
• You want to improve your speech
• You want to improve your appearance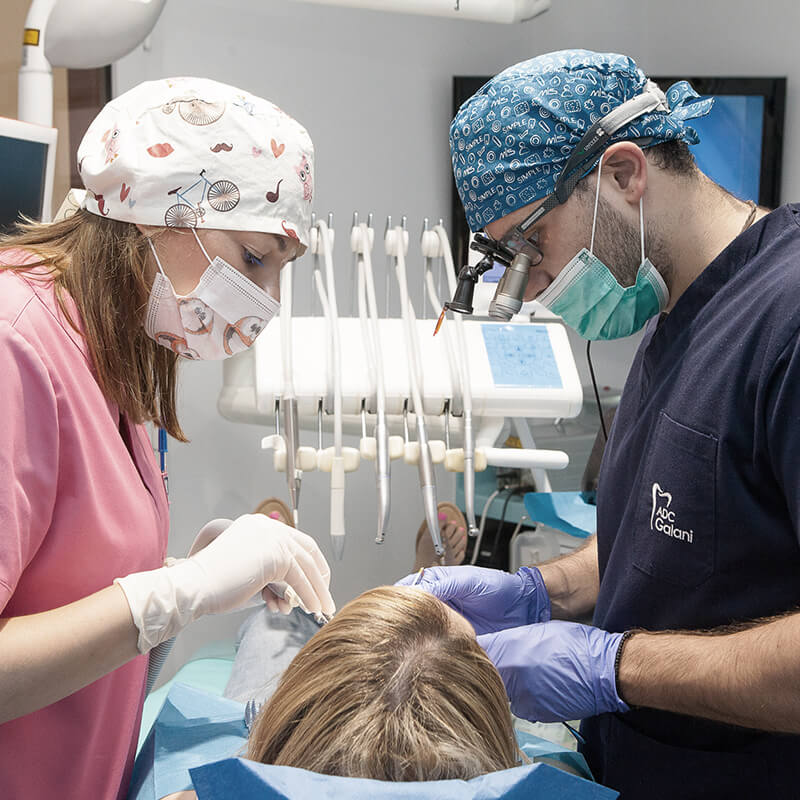 The process of implant placement
The process consists of a number of appointments where each serves its own purpose.
The initial examination. Detailed medical history recording, photograph of the mouth area to be operated on, intra-body and radiologic examination. If you also have a panoramic x-ray, you will be able to facilitate the initial diagnosis and prognosis.
Placement of the implants with or without bone granulation where possible.
Mounting skeletons.
Depending on the difficulty of the case, the whole procedure can take from 1 to 3 hours.
We begin the procedure for placement of prosthetic work after examining the osteosynthesis of the implant.
We are putting in our final extra work.
The time it may take between appointments and the number of appointments depends on many factors and is not the same for any patient. There is a possibility of immediate implantation and immediate loading of the implant. Implantation and prosthetic work may also be performed immediately after tooth extraction.
In order to have a complete picture of the case, you should speak with your dentist directly who will then suggest that it is best for you.  You can find more detailed  information that will help you on a lot of questions about implants here.
Post-treatment stage of implant placement
Immediately after the implants are positioned depending on the procedure and its severity, there may be pain and edema that may take several days.
In simple cases, there is usually no pain or edema (swelling).
After about 10-14 days the stitches are removed.
In any case you should follow your dentist's instructions.

The result

You will now be able to smile and eat properly.
With the passage of time you will not be able to separate the implants from the normal teeth.
Confidence will come back to you.
Always remember that implants want the same oral hygiene and care as normal teeth. If you stop good oral hygiene, there is a risk of developing peri-implantitis and losing the implants.